When we speak of Latin American art to refer to all the different forms in which it has emerged right across the continent, we might get the feeling that it is somewhat homogenous, but this could not be further from the truth. Talking about Latin American art means considering a multitude of different styles, movements, and social and political contexts throughout the whole continent of Latin America, of which the result is a wide variety of artistic manifestations.
The Ralli Collection encompasses the vast majority of styles that came about in this continent between the 1940s and 1990s, with a predominance of surrealist art and figurative languages.
The current permanent collection of the Marbella Ralli Museum holds a selection of works and artists from the Ralli Collection that reveal certain facets of Latin American art. Different movements and artists are displayed, representing styles with a figurative tendency that emerged in different countries based on an avant-garde approach. All of these approaches contemplate the idea of creating an identity art that is specifically Latin American. From surrealism to hyperrealism, from social art to magical realism, a total of 95 works have been brought together to illustrate a part of history.
In this visit we suggest you concentrate on five works which encompass the different approaches, and which will provide us with the keys to understanding the other works in the collection.
Room 5, on the left
Ernesto Deira
(Argentina, 1928-1986)
Caronte, 1985
Acrílico sobre tela | 200 x 160 cm
Colección Ralli
Parallel to the prevailing international current in which informalist and abstract artistic movements predominated, a type of art developed in Latin America that was also determined to break with tradition, whilst defending the prevalence of figuration.
A group called "Otra Figuración" (Other Figuration) emerged in Argentina in the 1960s. Lasting just four years, it sowed the seeds of and gave way to a new form of representation without renouncing either figuration or formal experimentation, expressiveness or pictorial syncretism. This movement, which was to be named "Nueva Figuración argentina" (New Argentine Figuration), is characterised by formal exploration through the expressiveness of colour and marks, going into depth with individual themes and matters relating to modern society.
Ernesto Deira was the most rebellious member of the "Otra Figuración", and his work has continued in this same line after the group's split. He takes aspects from informalism and expressionism that allow him to play with the material, forms and colour to distort the figure, representing Man in his most destructive aspect.
In his search to convey concern and anguish, Deira presents a work that appears chaotic, although it is the result of an exhaustive compositional process.
In his work "Caronte", the artist uses the colour red to merge the background and the figures, which we can just about distinguish thanks to a fine line drawn by the artists to delimit them, along with occasional chromatic changes in the figures. Next to this large patch of red, other geometric forms intermingle on the canvas, forming in turn part of the human figures represented.
Room 5, on the right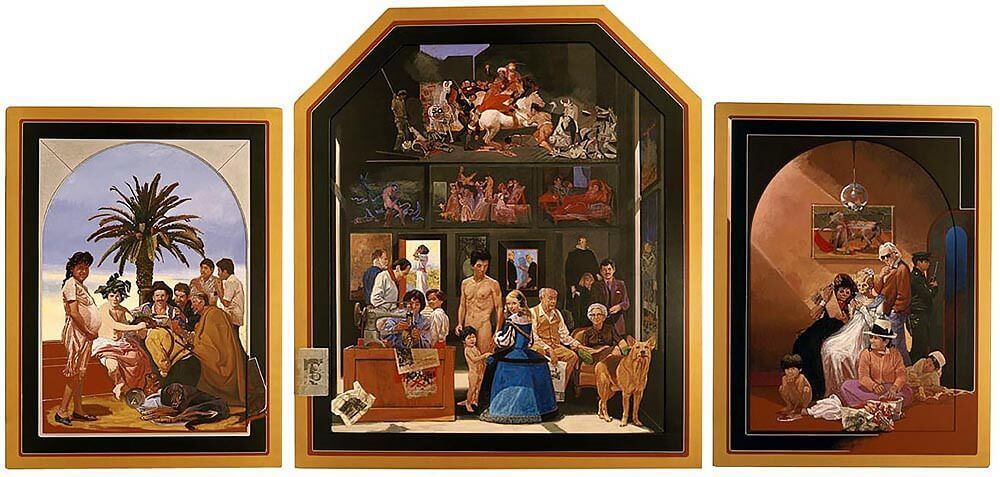 Herman Braun-Vega
(Perú, 1933 – Francia, 2019)
La familia informal, 1992
Acrílico sobre madera | 520x250cm
Colección Ralli
©Herman Braun-Vega, VEGAP, Marbella, 2021
In contemporary Latin American art, the pre-Columbian and colonial legacy are present in equal measure, both forming part of the complex task of defining and representing Latin American identity.
Staying with figuration and its role within the avant-garde art of this continent, we see the work of Herman Braun-Vega. This Peruvian artist, classified as a "hyperrealist", uses a naturalist language with references to traditional painting, which in turn shares allusions to avant-garde art and great masters of traditional Spanish art, appropriating both languages and direct references to them. In his works, he precisely represents the reality of artistic and cultural miscegenation that takes place in Latin American countries, particularly in reference to his native Peru.
The triptych "La familia informal" is part of the series "PERU/SPAIN, Memorias al desnudo", created for the 1992 exhibition at the former Museum of Contemporary Art in Madrid. It deals with syncretism and ethnic and artistic cultural miscegenation. For Braun-Vega, the entire American continent, both north and south, is today the result of all the blending that has taken place, giving us the society we have today.
This handling of cultural miscegenation allows the artist to freely combine elements from different periods and cultures with different artistic techniques and languages in the same work. His intention is for the viewer to identify the elements represented, thus facilitating their own relationships and reflections awakened by the work. Vega seeks aesthetic unity and the coherence of the end result within this blend. As a result we see a series of historical and artistic references from different periods alongside everyday characters and situations.
Room 9
Within this search for a national form of art which also takes into account contemporary innovations within the plastic arts, a generation of new painters arose in Mexico in particular who understood art as being far from the predominant style of the Mexican School of Painting that had been in place up to then.
These artists are known as the Breakaway Generation. They are united not by sharing aesthetic theories or behaving as a homogenous group, but by their intention to break away (hence the name) from previously prevailing forms of art.
A new range of artistic tendencies therefore emerged, among which we can highlight the role played by drawing and printmaking within Mexican and Latin American art in general during the 1960s.
Compared to the experimental and technological trends that prevailed in Europe, North America and Japan, Latin American artists made a clear declaration of intent when choosing these techniques as the predominant means of expression in their work.
José Luis Cuevas
(México, 1934-2017)
La casa del vicio, 1988
Aguafuerte Ed. 1/5 | 135 x 90 cm
Colección Ralli
©José Luis Cuevas, VEGAP, Marbella, 2021
Throughout his life, the Mexican artist José Luis Cuevas was a draftsman, painter, writer, printmaker, sculptor and illustrator, and was one of the first to openly position himself against the Mexican school within the Breakaway Generation. A neo-figurative artist, he recovered human figures in his work, but moved away from realism to create pieces with great expressive content.
He is easily recognisable in his works both in terms of his language and themes, with a great technical mastery of printmaking with a predominance of line in his language. His figures are depicted with deformed faces that convey the anguish, pain and loneliness that the artist saw that society was plagued by.
In his work "La casa del vicio", we see real people represented, as well as fantastic beings, some with semi-demonic faces, flying through the air, alongside men who are drinking and naked women (all but one) which refer to prostitutes.
The deformation in the faces of his figures imbues them with anonymity; they could be anyone. A means of expression to represent the inner "ugliness" of human beings through their physical features can also be identified in this use of disfiguration.
Room 8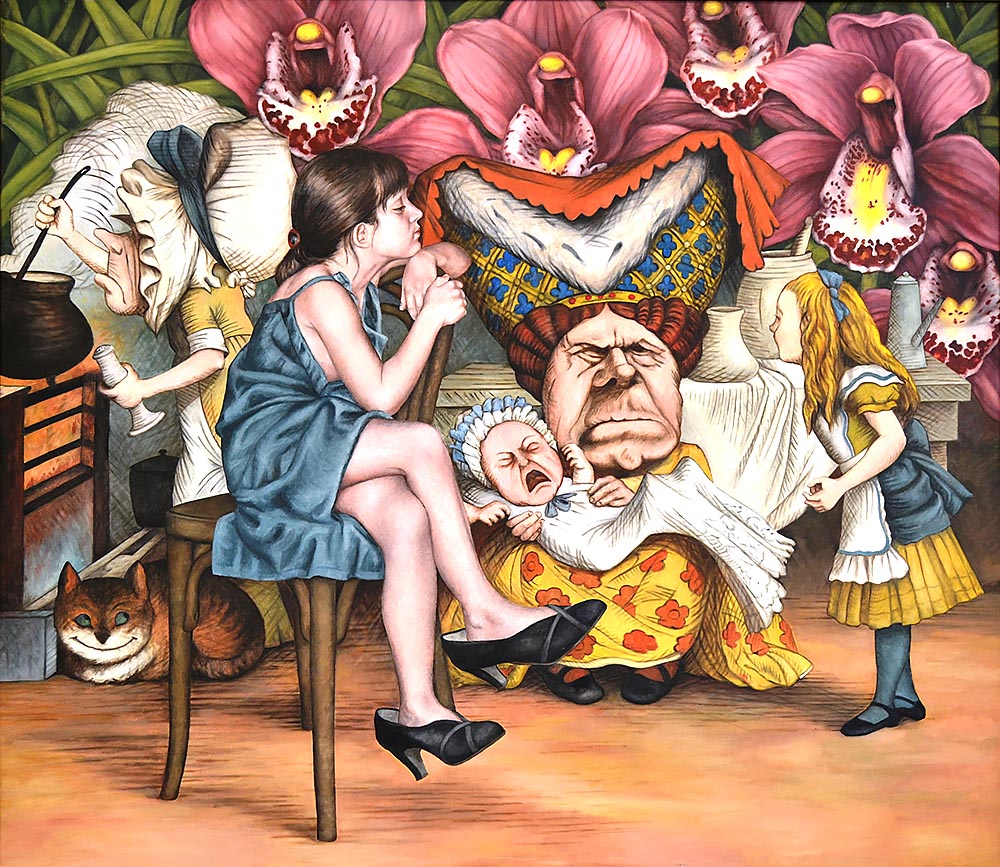 Alicia Carletti
(Argentina, 1946-2017)
La Duquesa de Tenniel, 1976
Óleo sobre tela | 130 x 150 cm
Colección Ralli
Magical realism is an artistic and literary movement characterised by introducing an unusual element into the works. Realistic in appearance, they contain an element of surprise. It differs from surrealism precisely in the way it represents fantasy, revealing itself to the viewer in a natural way as just another reality. The intention of magical realism is not to represent something unreal but to make it seem probable to us.
Alicia Carletti is an Argentine painter and printmaker who is an exponent of this artistic trend. She structures her works into series, grouping her artistic ideas into themes that she represents almost obsessively. Thus we see from the beginning of her career how her representation of lonely and empty houses, enormous mushrooms with a frightening appearance, and small girls dressed in women's clothing and accessories, come over time to share the limelight with landscapes based on flowers and toys.
The influence of Lewis Carroll's magical realism on her work is clear; it marked her so much that she dedicated a series of paintings to him in which she reinterpreted illustrations from "Alice in Wonderland", incorporating elements of her iconographic language, such as a single girl on the canvas dressed up as a woman.
Room 6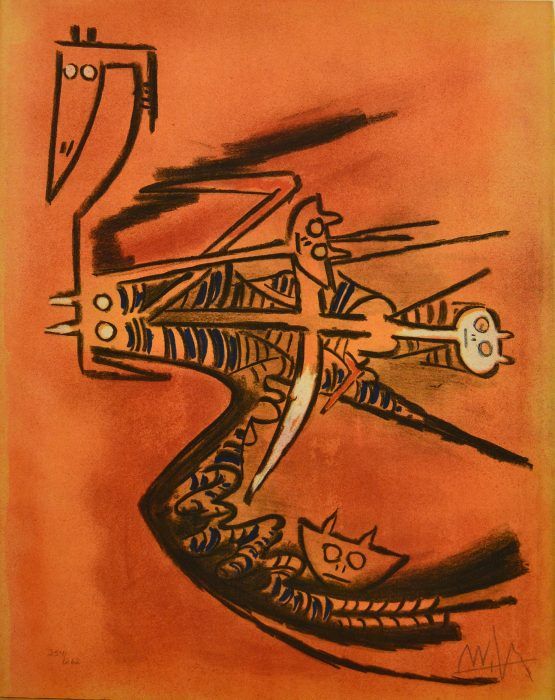 Wilfredo Lam
(Cuba, 1902- Francia, 1982)
Soeur de la gazelle, 1974
Serie PLENI LUNA
Litografía Ed. 254/262 | 65 x 50 cm
Colección Ralli
©Wifredo Lam, VEGAP, Marbella, 2021
Of the movements that arose in Europe during the avant-garde period, surrealism took hold in particular in Latin America, although there are those who would say that it was before this time. The way in which it shook up the world and the established order attracted artists from this continent.
There are, however, differences between the surrealism that emerged in France and Latin American surrealism from the past and present. Latin American artists start from a fantastic worldview to represent, in most cases, their own reality.
Wifredo Lam was born in Cuba, the son of an Afro-Cuban mother and a Chinese father. He grew up in Sagua La Grande, with a childhood and education that was a hybrid between Catholicism and African traditions.
Lam studied painting in Havana, travelling to Spain at the age of 18. He spent over two decades in Europe, where he got to know the work of European avant-garde artists.
After his arrival in Paris, Lam incorporated the representation of faces as masks in his work for the first time. Having spent two years in the capital he travelled to Marseille where he was to meet Breton and join the surrealist movement. The collective creative practices and psychic automatism of this movement were of particular interest to Lam.
In 1941 Lam returns to Cuba, where he finds a deeply depressing scene that leaves him feeling disillusioned. He has a clear purpose after his arrival on the island: to build up an art scene that shows a different side to the story in which Cuban identity and négritude were a source of national pride. Along with other artists and intellectuals on the island he works to create this alternative to the imposed modern portrait. Fernando Ortiz (ethnologist, anthropologist, jurist, archaeologist and journalist) introduces the concept of "transculturalization", with Lam focusing on its artistic aspects.
From this point, Lam recovers the depiction of African masks in his work, already developing what was to become his characteristic artistic and thematic style, focusing on the themes of race and Cuban identity. In his works we see a dialogue between the visible and the invisible, the real and the imaginary, that which is imposed and which is demanded, loaded with fantastic connotations and speaking honestly to us about social, cultural and identity problems in Cuban society.
The totemic and ritual nature of the works seen here responds to this theme. Autochthonous aspects are represented with a major component of fantasy. Based on tools or weapons and representations of imaginary beings, he forms structures that are reminiscent of masks.
Although Lam distances himself from pure surrealist practices, this fantastic component means that he continues to be considered one of the greatest exponents of this movement in Latin America.