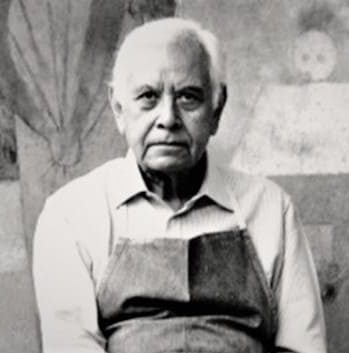 RUFINO TAMAYO'S BIOGRAPHY
Born Rufino del Carmen Arellanes Tamayo, he took only his mother's surname, of Zapotec origin, for his artistic name.
He was born in Tlaxiaco, a city in the Oaxaca region, moving to the Mexican capital at the age of 11 to live with his aunt after his mother's death. He began his studies at Mexico City's National School of Fine Arts in 1915 but soon left and continued to teach himself. In 1926 he held his first solo exhibition in the city.
A contemporary of Rivera, Orozco and Siqueiros, his artistic development coincided with the Mexican muralist movement and the influence of the movement to recover what was considered "Mexican" at that time. However, Tamayo had a particular vision on how to represent identity in art, beyond socialism and what is "Mexican" as understood by the Mexican School of Painting. He is therefore considered as part of the Breakaway Generation, along with other artists like José Luis Cuevas and Carlos Mérida.
In 1938 he moved to New York to work as a professor at the Dalton School of Art. This was the start of his New York period, which would coincide with the rise of this city as the capital of contemporary art after the consequences of World War II in Paris and Europe in general. However international fame did not come until 1949, the year in which he took part in the 25th Venice Biennale. That same year he settled in Paris, where he became fully integrated into the post-war cultural movement.
He returned to Mexico in 1960 as a well-known artist both internationally and in his home country, serving as a contemporary point of reference for both. Themes of national identity, cultural references and indigenous traditions become more evident in his work from this point. Tamayo reflects both indigenous cultural heritage and modernity, using a completely avant-garde language as a starting point.
In addition to his facets as an artist and a teacher, Rufino Tamayo was to become a very supportive figure for new Mexican artists in the role of friend, promoter and art manager, leading him to acquire work by Mexican artists contemporary to him and by international artists, as well as pre-Columbian art. This trilogy of themes reveals his interests as a collector and conveys his firm intention to not allow young Mexican artists to lose sight of their ancient past, as well as their modern present.
RUFINO TAMAYO'S WORK
Following the path he took after his early years when he moved away from the canons of the Mexican School, Tamayo does not narrate stories in his works, simplifying both the forms and the content. Contrary to these too, instead of focusing on depicting the barbarities of the Revolution, Tamayo portrays a modern, industrial, peaceful and stable Mexico.
With an eye on contemporaneity, Rufino looks to the European and North American avant-gardes, highlighting the influence of artists like Paul Cézanne, Jean Dubuffet, American abstract expressionism, cubism and geometric abstraction, which were to be decisive in forming his own style.
In his synthetic painting he gives priority to form and figure, with a masterful use of colour. He manages to combine texture, colour and form in the same brushstroke, three qualities that share prominence in his works.