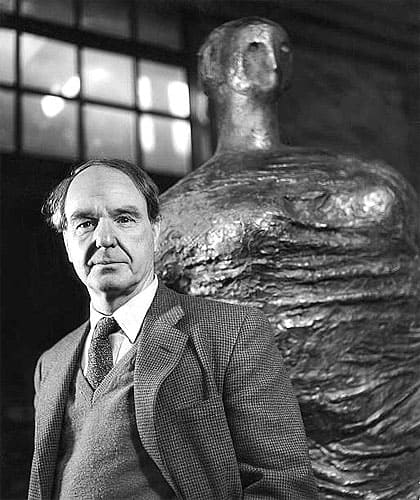 HENRY MOORE'S BIOGRAPHY
He was born in Castleford, a small town in Yorkshire, England, in 1898. Although he was drawn to artistic practice from a young age, Moore trained and worked as a teacher, eventually joining the army during the First World War. Thanks to an ex-serviceman's grant, in 1919 he began his studies at Leeds School of Art and later at the Royal College of Art in London.
In 1920 he travelled to Italy and France, where he got to know the work of classical artists like Giotto and Masaccio, as well as that of his contemporaries Picasso, Cézanne, Hans Arp and Modigliani. In 1933 he joined the Unit One group, made up of avant-garde sculptors and architects like Barbara Hepworth and Ben Nicholson, and the art critic Herbert Read. Although he was never part of the Surrealist movement, and his work did not even adhere to its premises, Moore was a member of the selection committee for the International Surrealist Exhibition in London (1936), where he also exhibited his work.
His London studio was damaged by a bombing in 1940, so he moved to a farm in the suburbs. What was originally going to be a temporary stay ended up being his family's home for decades.
During this period, of particular interest is Henry Moore's role as official war artist at the request of Kenneth Clark, then director of the National Gallery in London. In this role, Moore mainly produced drawings, in which we see the sculptural qualities of his language.
In 1977, he decided with his family to establish the Henry Moore Foundation , seeking to promote enjoyment of the arts, in particular sculpture. The artist worked for the Foundation until his death in 1986.
HENRY MOORE'S WORK
Known primarily for his sculptural work, Henry Moore also worked in drawing, printmaking and textile design.
His work is based on depicting the human form, in particular female. It stands out for the curved lines that make up his figures, taken to expressive deformation that, however, is far from the idea of horror that is present in the work of some of his contemporaries.
The unprecedented success and recognition that Henry Moore received during his lifetime allowed him to produce artistic and sculptural commissions that had a great impact, positioning him as a point of reference for modern art of the time. These include the work "Madonna and Child" (1943) for the Church of St Matthew in Northampton, and the famous "Reclining Figure" (1956-58), made for the UNESCO headquarters in Paris, as well as a large number of sculptures in public spaces, hospitals, schools, etc., and his participation in international exhibitions, such as the MoMA retrospective of his work in 1946. Finally, in 1948, he won the International Prize for Sculpture at the Venice Biennale, consolidating Moore's name at an international level.
After the war, and also coinciding with the birth of his daughter in 1946, Moore's work becomes filled with drawings and studies with maternity and domestic life at their heart, although, as we can see, he continued his sculptural work.
From the 1960s onward, Moore's forms became increasingly abstract, drawing inspiration from nature. These biomorphic forms seem to have been subjected to viewing under the microscope, working with this enlarged format both in his large-format works and in those of smaller format and drawings.
Henry Moore's figures combine characteristic smooth, curved forms with knife-sharp edges, compact twisted forms and stretching points. Volumes are as important as empty spaces. This language can be seen both in his sculptures and his drawings and prints.