The exhibition Contemporary art in Oaxaca: Vanguard, myth and tradition provides an overview of the various artistic manifestations that emerged from this southwest Mexican state between 1960 and 1990.
Marked by the clear trends specific to Oaxacan art, with its different languages and styles, the exhibition showcases both the diversity of its artistic manifestations as well as their common features.
Referring to this diversity, the subtitle Vanguard, myth and tradition indicates the three stylistic lines of Oaxacan artistic creation that are highlighted in this exhibition.
The exhibition reflects on the role played by Rodolfo Nieto, Francisco Toledo and Rodolfo Morales in promoting these trends in Oaxacan contemporary art, exploring the relationship established between them and the artists who succeeded them. In addition, emphasis is placed on the role played by Rufino Tamayo in sparking the paradigm shift in art from this region prior to these three artists.
Genesis
The work of Rufino Tamayo, the father of modern painting in Mexico, was a revolution on a Mexican and international scale. His capacity to synthesise and unify concepts and references makes it possible for the tradition and beliefs of the Mexican peoples to coexist with avant-garde language within a single work.
Three artists were to follow him in terms of both chronology and excellence: Rodolfo Morales, Rodolfo Nieto and Francisco Toledo. Each one helps us sketch out the themes that have conditioned contemporary Oaxacan art, and that continue to do so today.
Tradition and everyday life
Felipe Morales, 
The rite of farewell (1989)
Daily life with its traditions, customs and environment is represented through the eyes and the brush of artists like Rodolfo Morales, Felipe Morales, Maximino Javier, Irma Guerrero and Fernando Olivera.
In these works, everyday scenes intermingle with the Zapotec cultural tradition and permeate their works of fantasy. Vivid colours and earth, ochre and reddish tones predominate in these artists' works, which have been linked to Magic Realism.
Avant-garde: form and matter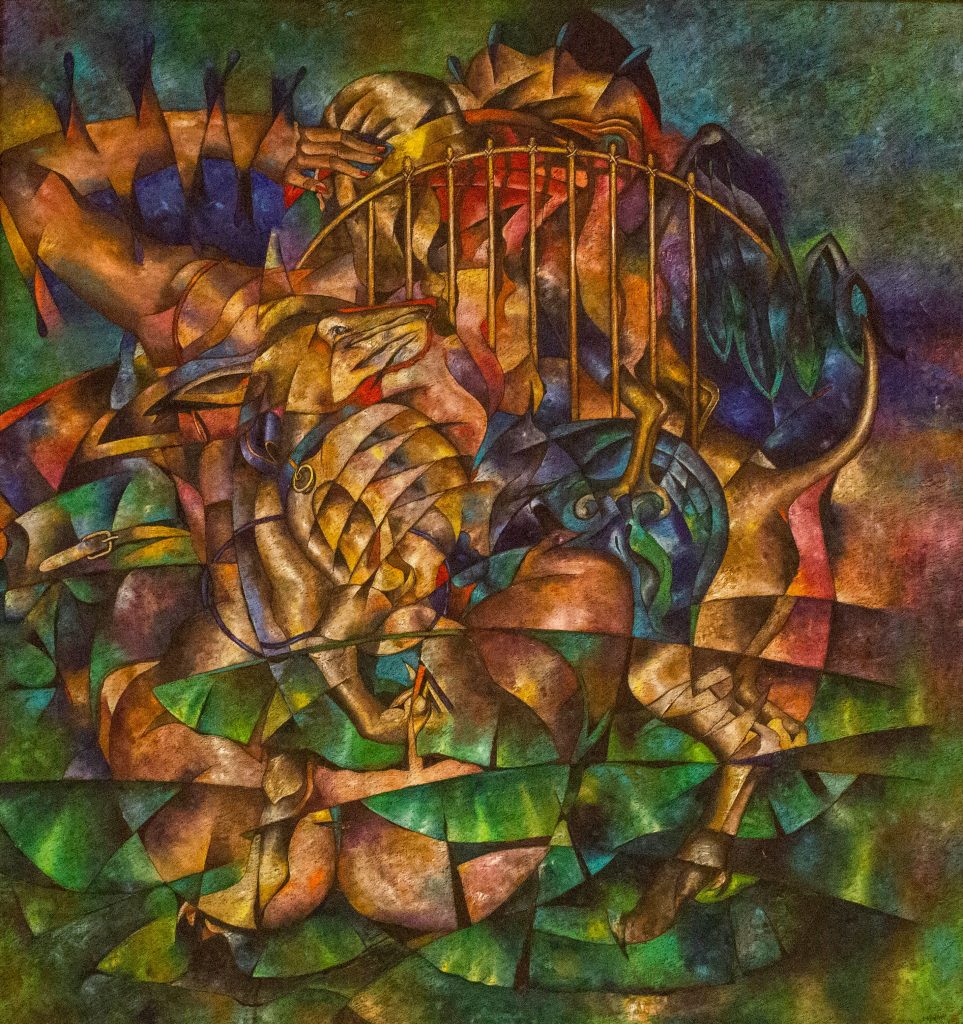 Luis Zárate, 
Tropical dream (1984)
The most avant-garde component in terms of the similarities with contemporary movements and languages from other continents is seen here in the use of informalist, matter and gestural painting by Rodolfo Nieto and Luis Zárate, and in the work of Alejandro Santiago.
However, in spite of their modernity, there is still a clear link with the indigenous tradition in the references and the representation of the local flora and fauna in their works, even in those that are furthest removed from form.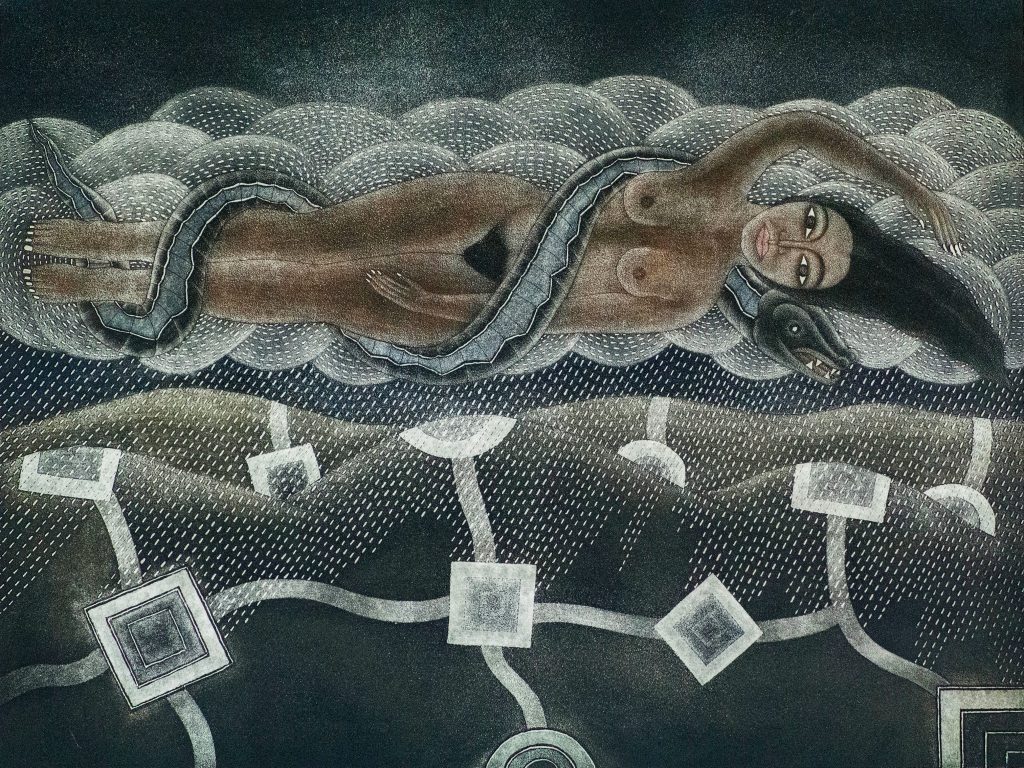 Juan Alcázar, 
Water snake (1988)
Both elements are strongly present in the life, tradition and art of Oaxaca. As a result we see works full of references to the Mesoamerican and Zapotec tradition based on mythological themes, the representation of real and imaginary animals, dreams, the mystical, the night.
Here the fantastic atmosphere created is tinged with darkness and an ethereal atmosphere, which shares the limelight with textures and the inclusion of new materials, especially in the work of Francisco Toledo.
Toledo, Juan Alcázar, Cecilio Sánchez and Justina Fuentes alike are great exponents of this theme both in Oaxaca and in this exhibition.
Enjoy our musical selection