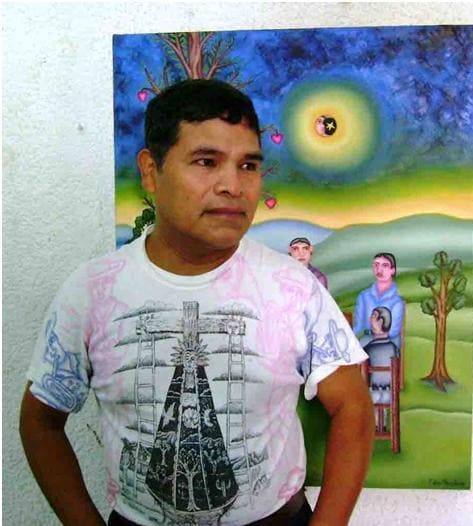 FELIPE MORALES' BIOGRAPHY
Born Felipe de Jesús Morales in San Pedro Mártir Ocotlán, Oaxaca, in 1959, at the age of just fourteen he entered the Rufino Tamayo Plastic Arts Workshop within what was known as the "first generation" group. He also studied at the Oaxaca School of Fine Arts and at Juan Alcázar's engraving workshop.
In 1989 he started exhibiting his works in the city of Oaxaca, and was later to do so throughout Mexico and overseas, with countries such as France, Canada, the United States and Japan coming to know his work.
FELIPE MORALES' WORK
He represents Oaxacan culture, landscapes and religious beliefs in his work, in which we see how pre-Hispanic and Catholic traditions co-exist. However, they are not depicted in a realistic manner. His elongated figures with a somewhat naïve touch are situated in settings where perspective and syncretism abound. The use of bright and warm colours is added to this.
With a naïve aesthetic inherited from indigenous iconography, his scenes are also characterised by representing Oaxacan cultural identity based on the combination of everyday references and symbolism, which is seen often in the language of Oaxacan artists. Influenced by Rufino Tamayo and Rodolfo Morales, Felipe Morales creates his own language in which he combines the fantastic and magical realist current of Oaxacan art and tradition.