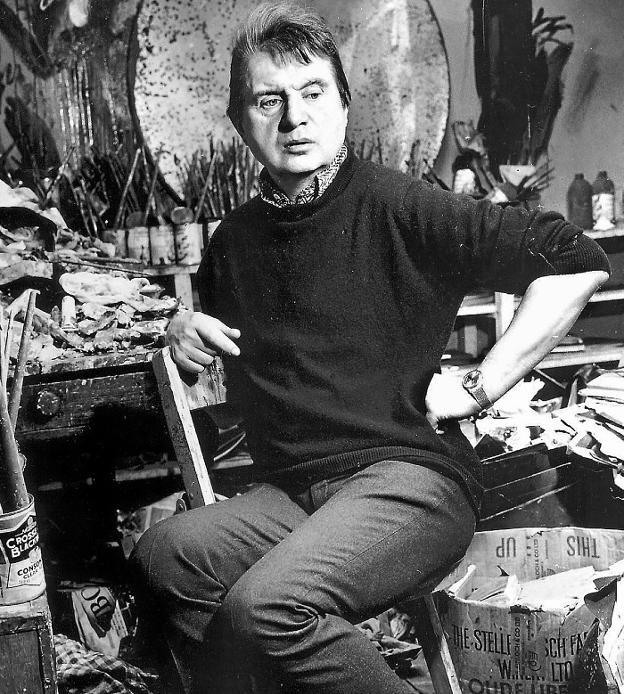 Francis Bacon's biography
He was born in Dublin in 1909, the son of English parents. After a childhood marked by mistreatment from his father, he was thrown out of his family home at the age of 16 due to his homosexuality. He travelled widely and spent time in London, Berlin and Paris, returning to the English capital in 1929.
In Europe he discovered the realistic painting of George Grosz, Otto Dix and Max Beckmann, and came into contact with the Bauhaus school, working-class neighbourhoods, Eisenstein's film work, the theatre, the opera, etc. In the French capital he became immersed in avant-garde currents and was influenced by cubism and surrealism. His influences include artists like Pablo Picasso, Giorgio de Chirico, Fernand Léger and Jean Lurçat.
By this point Francis Bacon had started painting as a hobby, whilst working as a furniture and interior designer. His visit to the Picasso exhibition at Rosenberg's gallery in Paris in 1928 was to represent a before and after in this Irish artist's life, being at this precise moment when he decided to dedicate his career to painting.
In 1930 he started to take painting classes in London. Four years later he held his first solo exhibition. It was a total failure and the disappointment led him to destroy all the works he had produced up to that point. However this was only the first of his disappointments; two years later, in 1936, he wanted to be part of the First International Surrealist Exhibition held in London, but his request was refused as he did not comply with the movement's guidelines.
Devastated, he abandoned all artistic production and it was not until 1944 that he returned with his "Three Studies for Figures at the Base of a Crucifixion", exhibited a year later in London and well received by critics. However, it was a disconcerting and disturbing work representing monstrous figures. In this triptych, Bacon establishes what would be considered a constant in his work: a deep analysis of the atrocity of the human condition.
Affected by personal circumstances and the end of World War II, Bacon attempted to find a way to express these horrors through figuration, as would other artists of the time within the London School[1], of which Bacon was part.
Francis Bacon's work
His work focuses on portraits and the human figure, reinterpreting themes from classical painting. He visited museums and drew on the works of the great maestros of ancient painting such as Tiziano, Velázquez, Rembrandt, Grünewald, van Gogh, torsos and fragments of classical antiquity, as well as maestros of expressionism. However, he was not only influenced by the past. Bacon combined all this with mass culture and pop art, photographs, magazines, expressionist and surrealist films by Eisenstein, Stroheim and Buñuel, together with medical imagery and X-rays.
His studies dedicated to the human figure represent the anguish and oppression of modern man. The disfigurement of the bodies and faces with large open mouths, blood, oppressive backgrounds and decoration all accentuate this sensation. Bacon portrays his own painful and distressing vision of man and contemporary society. We can read the unresolved relationship that Bacon had with the body, nudity and sexuality in his work, which has a significant autobiographical component.
The deformation of faces is a characteristic of Bacon's work that is attributed to the influence that Picasso and his cubist theory had on him, which Bacon takes and transforms with expressionist language. In the same way, his organic forms and bodies with blurred edges refer to the biomorphic forms used by surrealist artists like Salvador Dalí, Jean Arp and Henry Moore. Themes such as death, sex, fear of both, and psychoanalysis also serve to unite the Irish artist Francis Bacon and the surrealists.
Self-portraits, another of Bacon's great themes, also explore his anxieties and greatest fears. He subjects his own face, which he said he detested, to distortions and dark representations; this was to be repeated over and over again.
Reiteration in his works is not something that is limited to self-portraits. Bacon took themes and works from other artists (such as Velázquez's "Portrait of Pope Innocent X" and Poussin's "Massacre of the Innocents"), or his own, doing this over and over again with different results. They are taken as an excuse to explore form and the expressive component of colour and brushwork.
The triptych format, which was widely used by Bacon, helped him represent a subject from different perspectives, getting viewers involved in the sensation produced by the work. Reiteration strengthens his message. However, he avoids narration, and the only thing that links one image with another within the work itself is the background colour.
Bacon was to travel and hold major exhibitions throughout Europe and North America from the 1960s onwards, and would continue painting and travelling until the end of his life. On these journeys he made repeated visits to Spain, where he died of a heart attack in 1992.
[1] Name given to the group of independent artists who worked in London at the end of the 1940s, whether or not they were English, including RB Kitaj, Lucian Freud, Francis Bacon, Howard Hodgkin, Leon Kossoff, Michael Andrews and David Hockney. They shared their use of figuration in their works (as opposed to the abstract movements that were taking place at that time both in Europe and in the United States).